Paella, a traditional Spanish dish from Valencia ('Paella Valenciana' in Spanish) is known all over the world for its flavor. Just about everybody loves this Mediterranean Spanish cuisine, which is a rice dish consisting of meat, fish, seafood, and vegetables. It's famously seasoned with saffron to provide a yellow color and unique flavor.
Although we could argue that more than 10 different types of paella are available to suite your specific taste, the ones you definitely don't want to miss while in Spain are:
Valencian Paella ('Paella Valenciana'): This is the original Spanish paella recipe made of rice, green vegetables, rabbit, chicken, or duck, snails, beans, and seasoning.
Seafood Paella ('Paella de Marisco'): This is one of the recipes that best defines Mediterranean cuisine by rice, seafood, and seasoning.
Meat Paella ('Paella de Carne'): Often made with chicken, in addition to red peppers and peas, this paella requires a good amount of black pepper and paprika, which the meat absorbs, providing a rich flavor.
Mixed Paella ('Paella Mixta'): Combining the best of the two flavors, meat and seafood, this is one of the most popular dishes and is usually cooked in every house. In this paella, you'll find varieties of rice, seafood, meat, vegetables, beans, and seasoning.
Vegetarian Paella ('Paella de Verduras'): Originally created to meet vegetarian needs, this combination maintains the original dish' core ingredients, while adding Mediterranean artichokes, asparagus, mushrooms, and olives.
Black Paella / Black Rice ('Paella Negra' / 'Arroz Negro'): This paella looks totally different from the rest, due to the fact that the rice becomes black from the octopus or squid ink. The ingredients are pretty much the same as the seafood paella, but it's famous for an especially strong seafood taste.
Since most visitors find paella restaurants in Old Town Madrid to not be that great, we decided to share our favorite locations where we, as locals, often go for the dish.
Not so famous, is Costa Blanca Restaurant— a must-do Paella restaurant on our list to order fantastic rice dishes. It's a local restaurant that specializes in rice with an excellent variety of Paella dishes, including Valencian, Seafood, Meat, Mixed Vegetables, and their exceptional Black Rice that you'll love without a doubt.
PRO TIP: This #BuzzilerRecommended spot also has a selection of great wines. Don't miss the chance to pair your paella with a fantastic glass or bottle of Verdejo Spanish white wine from the famous region of Rueda.
---
Visitors are often interested not only in tasting a good Paella, but also in learning how to make it the traditional Spanish way If that's of your interest, you may want to consider our Paella Cooking Class where our host Paloma (also known as Pipa) will introduce you to the original Valencian Paella and teach you how to make it the authentic way. During the class, you will also make, eat, and drink homemade Spanish Sangria, and try a Spanish Omelette ('Tortilla Española'), with the company of other guests.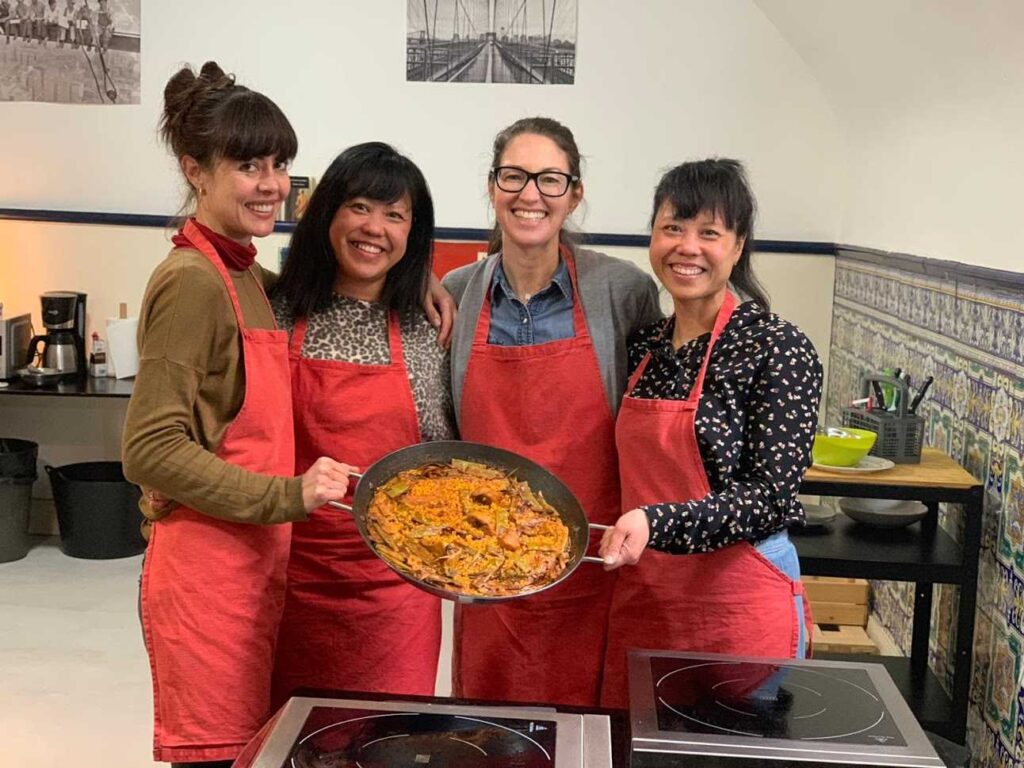 PRO TIP: In case you are wondering about Paloma's Cooking Class, read the article summary below that was featured by the popular Marie Claire French Magazine.
---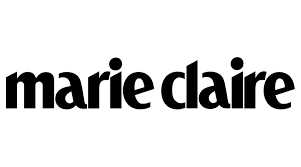 Gourmet Traditional Paella & Tortilla: The Secrets of the Valencian Paella
Madrid is a fascinating city that will never cease to surprise its visitors. Beyond the classic tourist routes, one can try unique experiences such as those offered in Paloma's workshop,, Traditional Gourmet Paella, and Spanish Tortilla. The kitchen is located in the picturesque district of Chueca, close to the popular San Ildefonso market, where you can discover the flavors of Spanish cuisine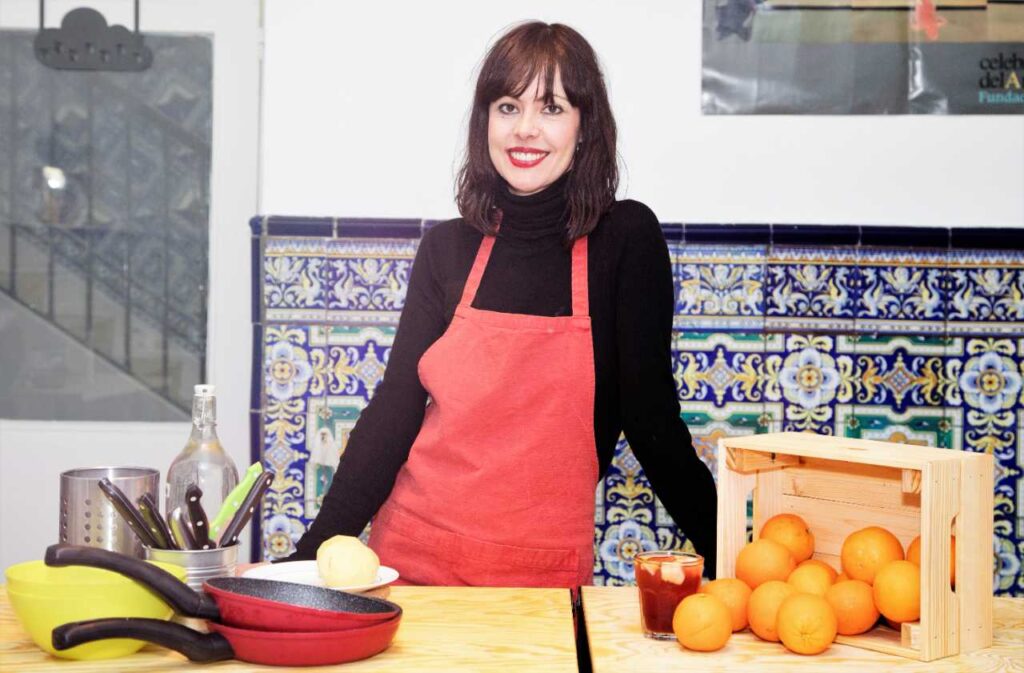 Paella and sangria, the Spanish must-haves
During the three hours of this cooking class, recipes of sangria, tortilla de patatas, and paella will be used to address different aspects of Spanish culture, touching on tradition, local festivals, and more specifically, the origin of paella. You will also learn about Fallas,a traditional firecracker celebration held in commemoration of the city of Valencia.
The welcome cocktail at the Traditional Gourmet Paella & Tortilla is prepared by its guests: a delicious sangria, accompanied by traditional tapas, to inaugurate this fun cooking class. Between different tastings, we prepare the tortilla de patatas to the taste of each guest.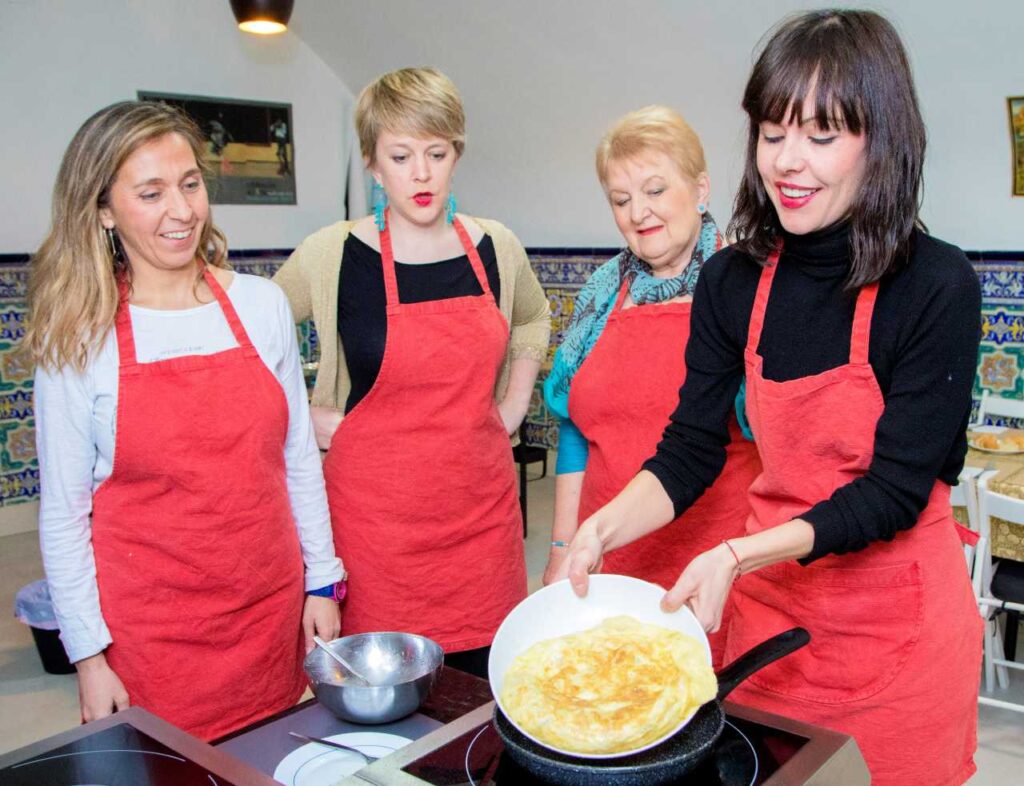 Then, participants enjoy a friendly moment in which they share their impressions and culinary customs of each others' countries. The goal is for everyone to learn and experience Spanish culture in a fun way.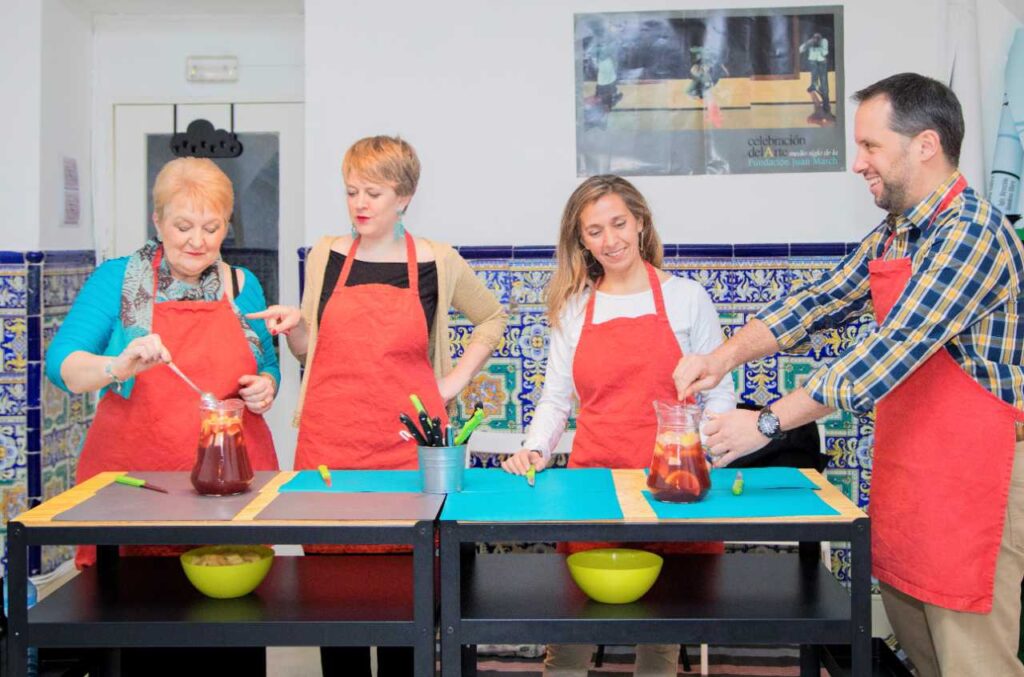 The group is often international, and at the table, everyone is encouraged to ask questions about the recipes. Once the ingredients are prepared, the key moment comes when you learn one of the best kept secrets of the paella– the proportion of water to rice.
A classy gastronomy class
Here, cultural immersion is as important as food. Paloma, the chef, and her Valencian hostess, know how to flow with the dynamics of any group, making this experience one of the most appreciated across tourist platforms.
The lesson takes place in a transparent space in the heart of Madrid and is organized into small groups. We speak English and are open to all visitors wishing to immerse themselves in Spanish culture.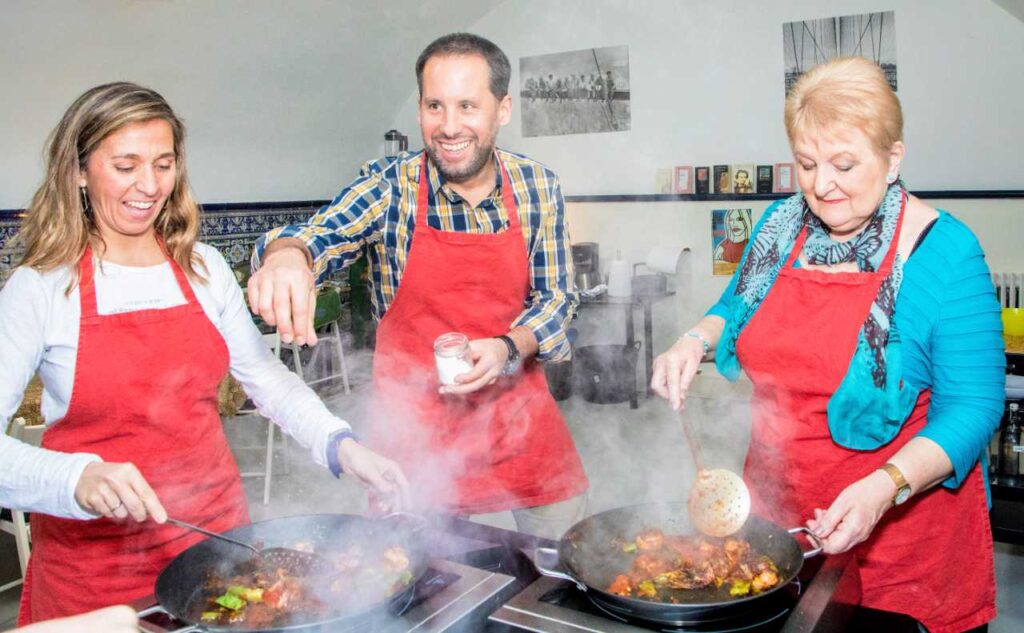 Read the full article here or on marieclaire.fr